"…
let us drop every extra weight, every sin that clings to us

and slackens our pace,

and let us run with endurance the long race set before us.
Hebrews 12:1

The Voice
This blog was inspired by Andy Stanley's sermon entitled "Just One Thing".

Many of us are notorious for making New Year's resolutions, most of us who do give up early in the race (usually by the end of January).

Andy's challenge to his congregation was to settle on just one thing they would pay full attention to this year, one thing that would dramatically improve their life, their relationships, their health, etc.
I would ask that you narrow your choice to the one thing that would most impact your marriage in a positive way.

For husbands that might mean paying special attention on how you can go about loving

your wife as much as you love yourself.

What would that require?

For wives it might be how you can be less critical, i.e. disrespectful.

What would that take?
However that does not rule out a number of other categories that could affect the quality of your marriage.

Perhaps you are struggling financially and that is causing much stress in your marriage.

What sacrifices might you have to make to get your finances under control?

Perhaps you are in poor physical condition.

Being in better condition physically can pay a lot of benefits, in particular a better quality of life together.
Perhaps you have an irritating habit or mannerism.

How can you eliminate it?

As the husband you are to be the servant leader, protector and provider.

A part of the leadership responsibility includes leading your family spiritually.

In particular husbands and wives should pray together every day.

For many men this is a true challenge.

Many of us did not grow up with our fathers modeling such behavior.

Many men feel ill equipped and often not as learned as their wives.

There are many helps out there if this describes you.

There is actually a newly released book entitled "The Seven Minute Marriage Solution."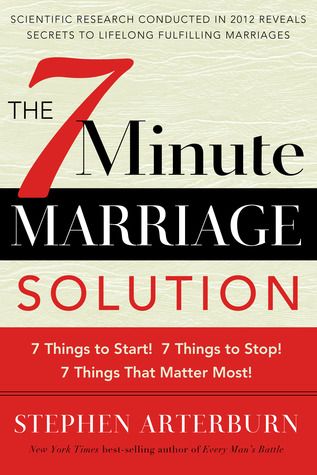 The seven minutes is comprised of
reading a biblical passage (that is usually part of a devotional guide), read the devotional, comment on what had the most meaning to you, and then pray together.
That whole process can easily be done in seven minutes, obviously
more time would yield even better results. There are many such devotionals that are free downloads on the internet, there is no shortage of material.
What's the one thing that you need to do in this upcoming year that will make your marriage the best it has ever been?